Our Team
Our team is here to take compassionate and high quality care of you and your pets. Meet our staff below.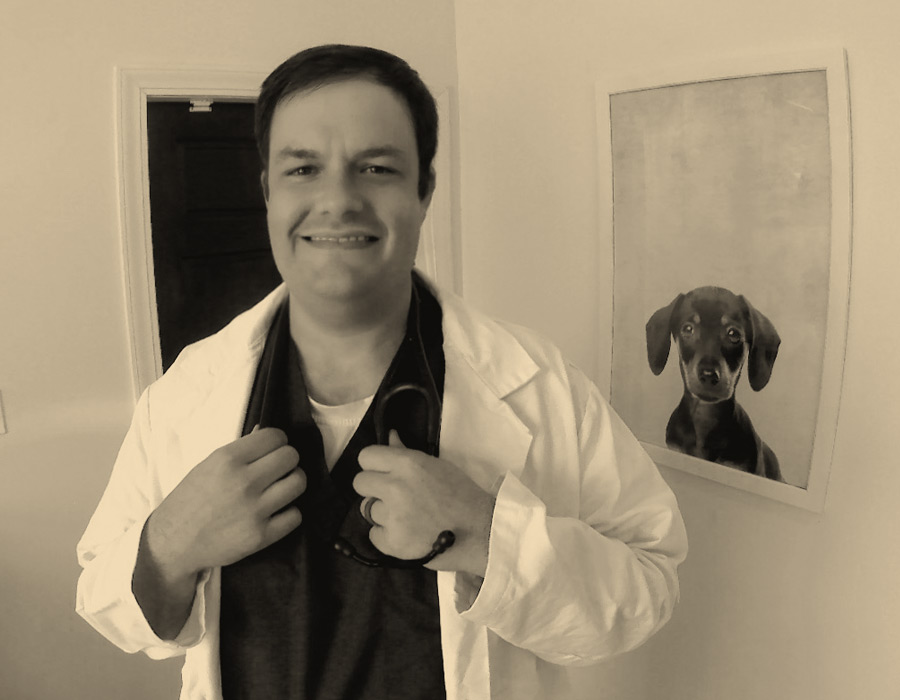 George Allan Edwards – DVM, Hospital Director
Dr. George Edwards is the owner and hospital director of Magnolia Veterinary Surgery. Dr. Edwards is a native of Louisville, MS. He completed both his Bachelor of Science degree and his Doctorate of Veterinary Medicine degree at Mississippi State University. Dr. George graduated from MSU College of Veterinary Medicine in 2008 and continued to pursue his career in veterinary surgery through an internship at the Atlantic Veterinary College, in Prince Edwards Island, Canada, followed by a one-year surgical internship at Animal Hospital Specialty Center in Denver, Colorado. He then completed a three-year, small animal surgical residency under the tutelage of Dr. Robert Hancock at a private veterinary surgical referral hospital, South Paws Veterinary Surgical Specialists, in Mandeville, Louisiana, where he stayed on as an associate surgeon for two additional years. In February of 2015, Dr. George and his wife, Sara Catherine, moved their family to Tupelo to established Magnolia Veterinary Surgery. George, Sara Catherine, and the Edwards family have fallen in love with Tupelo and are proud to be back home in Northeast, MS.
Dr. George's areas of interest include orthopedics, particularly diseases of the ACL, complex fracture repair, and regenerative medicine.
Dr. Edwards is a member of the American Veterinary Medical Association, the Mississippi Veterinary Medical Association, and the Veterinary Orthopedic Society.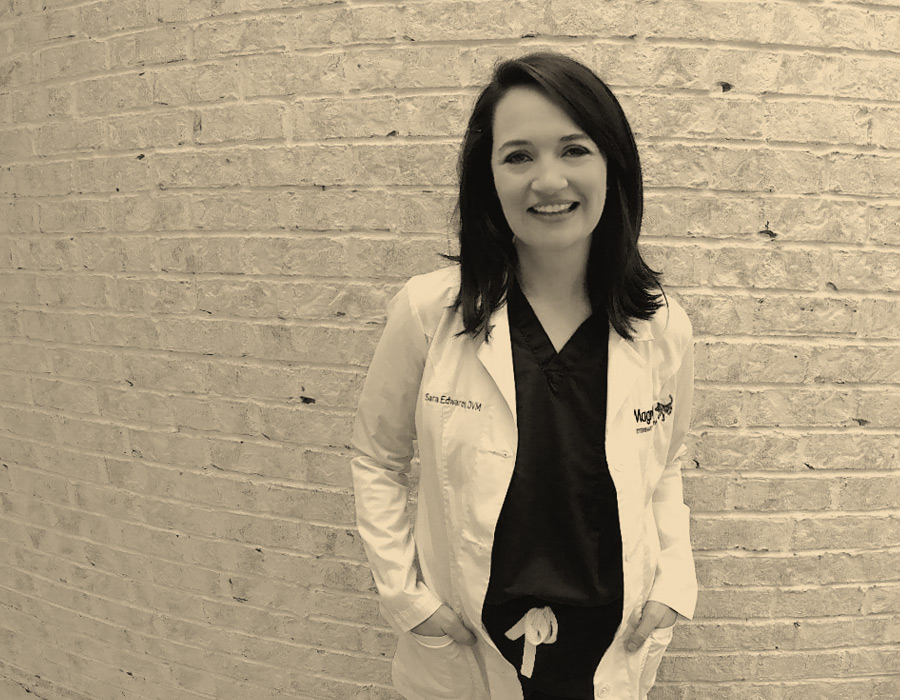 Sara Catherine (Stafford) Edwards – DVM, Hospitalist
Dr. Sara Catherine Edwards is the owner and clinic hospitalist of Magnolia Veterinary Surgery. Dr. Edwards is a native of West Point, MS.  She earned her Bachelor of Science at Millsaps College in Jackson, Mississippi and completed her Doctorate of Veterinary Medicine from Mississippi State University in 2009. During veterinary school, Dr. Edwards developed a special interest in canine rehabilitation, and pursued further education in this emerging area of veterinary medicine at The University of Tennessee College of Veterinary Medicine CCRP course training. Dr. Edwards has had the pleasure of practicing a mixture of general practice veterinary medicine, veterinary surgery, emergency medicine, and veterinary rehabilitation.  Dr. Edwards is passionate about her current position at MVS as the clinic Hospitalist, where she closely takes care of each individual patient's needs before and after surgery, as well as supervising the rehabilitation department.  Dr. Edwards resides in Tupelo, MS with her husband, Dr. George, three kids, and three dogs and cat.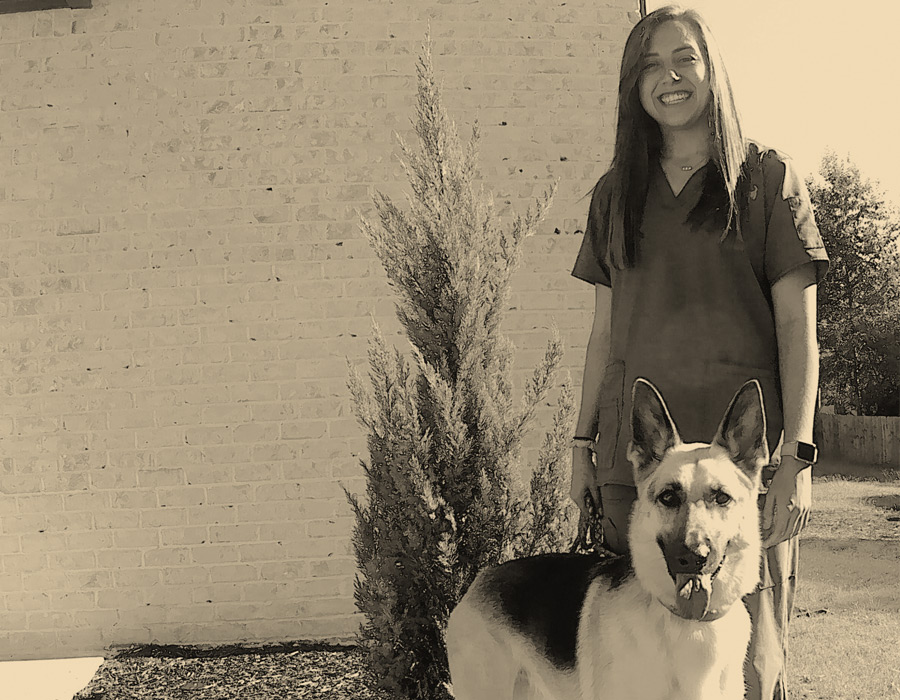 Lela Ramey – Surgery Veterinarian Technician and Assistant Office Manager
Lela has a huge heart for animals and has always wanted to work in a field with animals. Lela is currently enrolled in the Veterinary Practice Manager program at Penn Foster College, where she is working towards becoming a Certified Veterinary Practice Manager. Lela was raised in Fulton, MS where she completed high school and graduated from Itawamba Community College. Lela enjoys spending time with her husband, Devan and their two dogs, Sadie and Aliza.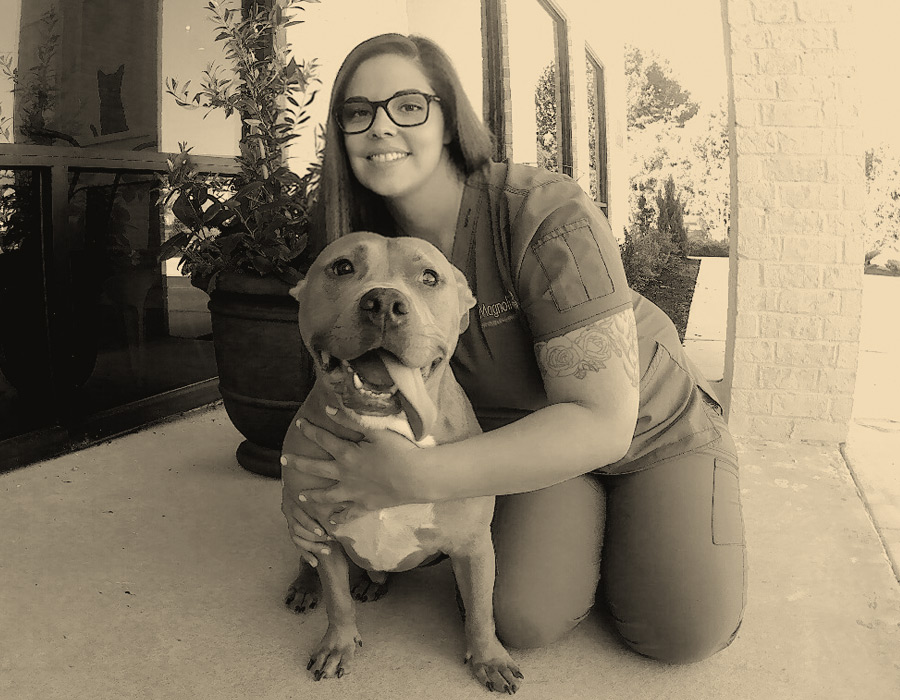 Samantha Hester – Surgery Veterinarian Technician and Anesthesia Technician  
Samantha Hester is from Tupelo, Mississippi. She spent 11 years in general practice veterinary medicine before joining Magnolia in 2017. When she is not working, she enjoys traveling, spending time with her two boys Ethan & Dylan (usually watching Marvel movies), and fangirling over Cole Swindell.   She has one fur baby, a dog named Bowen, who she rescued after being hit by a car several years ago.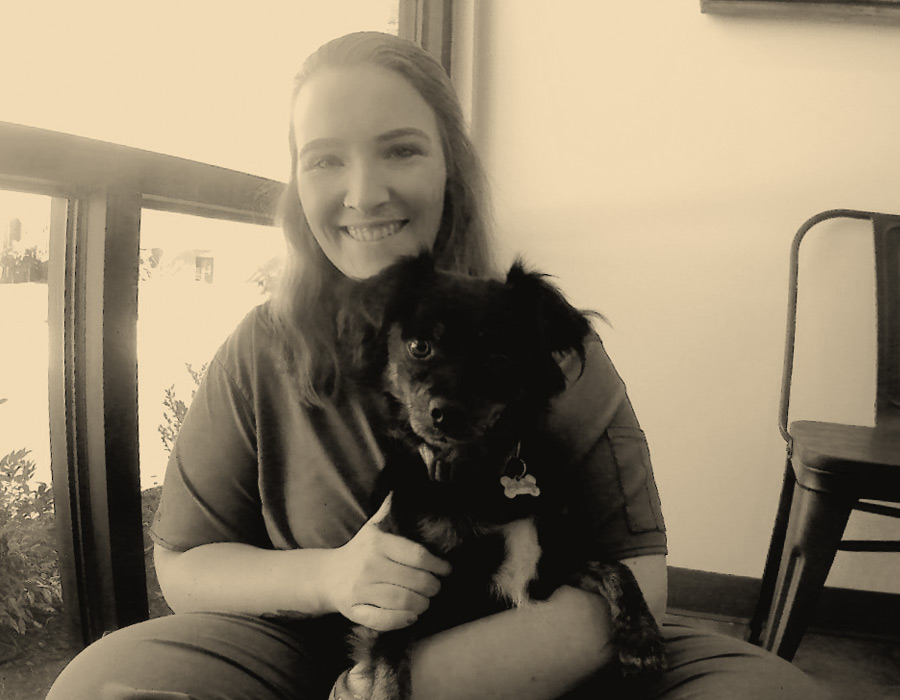 Liz Randolph- Surgery Veterinarian Technician
Liz Randolph is from Pontotoc, Mississippi. Liz loves spending time with her two dogs, Mia and TB, her cat Brooks and husband, Tyler. She graduated from Itawamba Community College in Fulton, Mississippi with an Associates of Arts degree in 2016. She is now pursing her Veterinary Technician degree through Penn Foster to become a Certified Veterinary Technician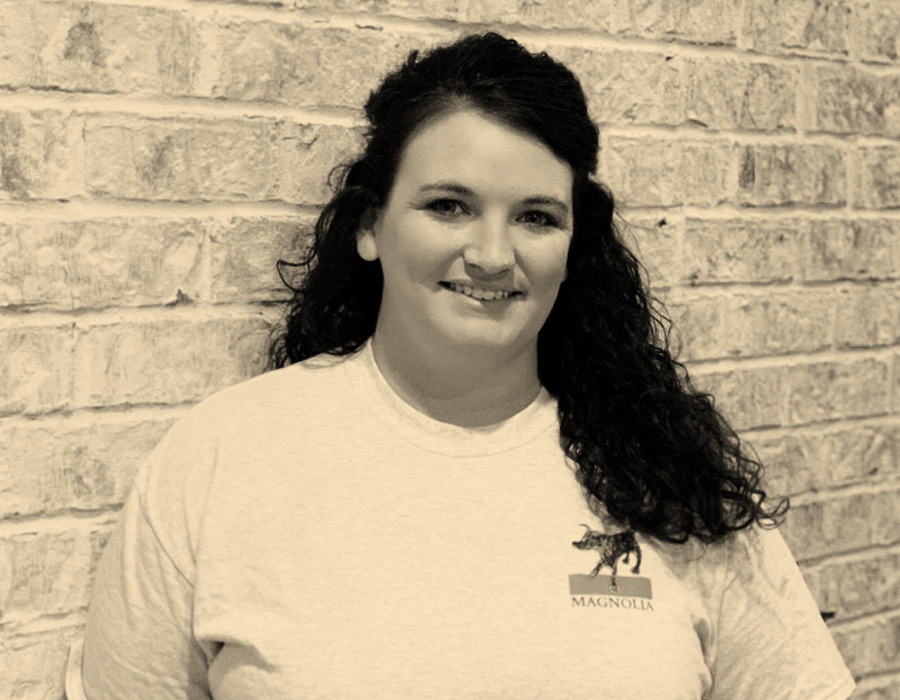 Kayla Justice – Reception/Referral Coordinator
 Kayla was born and raised in Mantachie, MS.
She attended Mantachie High School where she graduated in 2009. Kayla has loved animals her whole life and knew she wanted to work with them one day. She has worked in the veterinary field for over 5 years and enjoys being a technician to sick or injured animals. Kayla married her high school sweetheart, Cody, and they have a young daughter, Hayslee who keeps her busy! Outside of work, she enjoys family time and spending time with her Rottweiler Cooper and her Chihuahua, Chloe.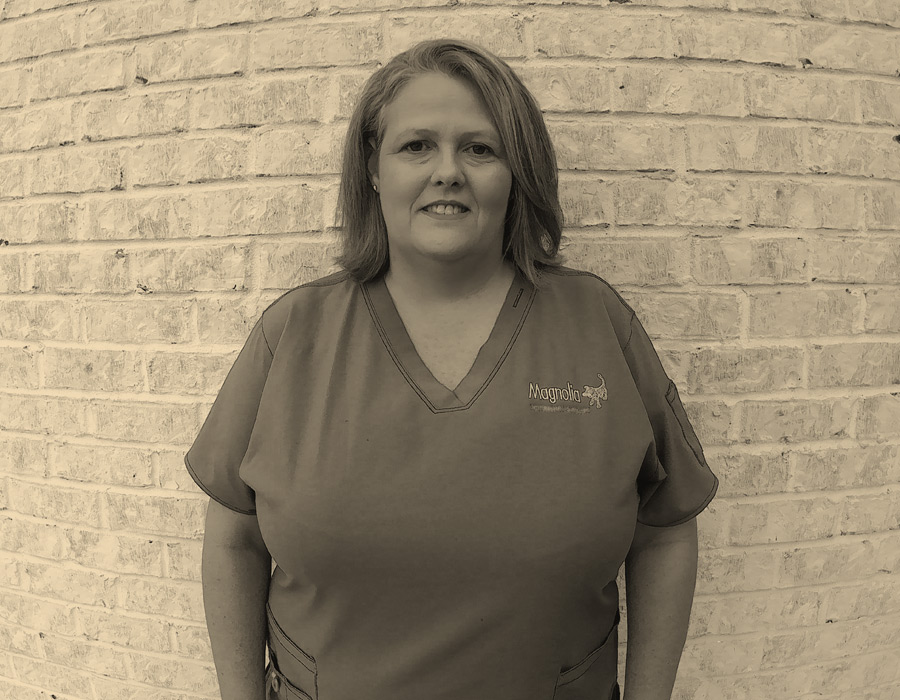 Tammy Palmer – Overnight Veterinary Technician
Tammy Palmer Herring is our overnight veterinary technician and has worked with animals for the past 14 years. She says, "It's the most enjoyable job you could ever have!" Tammy has lived in Guntown all her life and graduated from Saltillo High School in 1991. She is married to Richard Herring. They have one fur baby, Rim. He's a 15-year-old Jack Russell. Rim is the joy of her life and is always by her side.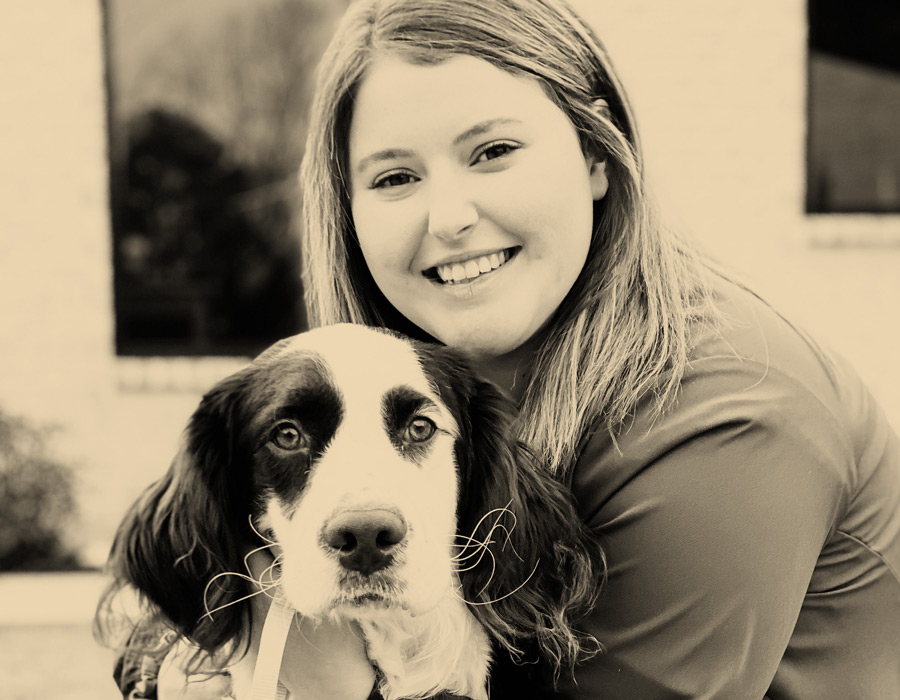 Paige Gadd- ICU and Rehabilitation Veterinarian Technician 
Paige is from Nettleton, Mississippi. She graduated from Itawamba Community College with an associates degree in 2019. She has always held a strong compassion for animals, which led her to pursue enrollment in the Penn Foster Veterinary Technology program. She has recently begun assisting with physical therapy and has grown very passionate about rehabilitation after surgery.  Paige shares her time with her husband, Harley, and her two Goldendoodles, Maple and Moose.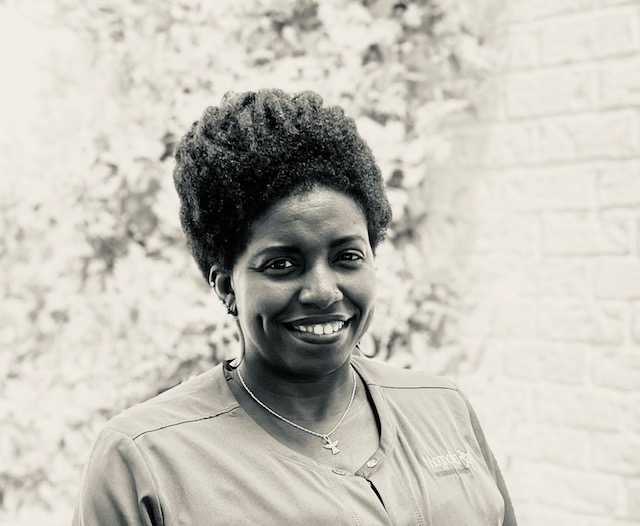 Rita James- Reception/Referral Coordinator
Rita James is from Okolona, MS where she graduated with the class of 1999. She has a huge heart and a sunshine smile! Rita loves spending time with her family, especially her daughter, NyAngel, who always keeps her going.  Rita loves meeting and greeting new people with a big smile, which makes her the best receptionist around!
Kylee Long-  Overnight Veterinarian Technician
Kylee is a native of Tupelo, MS. She has always had a passion for helping animals. She has worked as a veterinary technician for 12 years. When she is not working, she enjoys spending time with her two boys, Ryder and Isaac. She has a crazy, bad Golden Retriever named Stanley and a 3 legged cat named Stuart.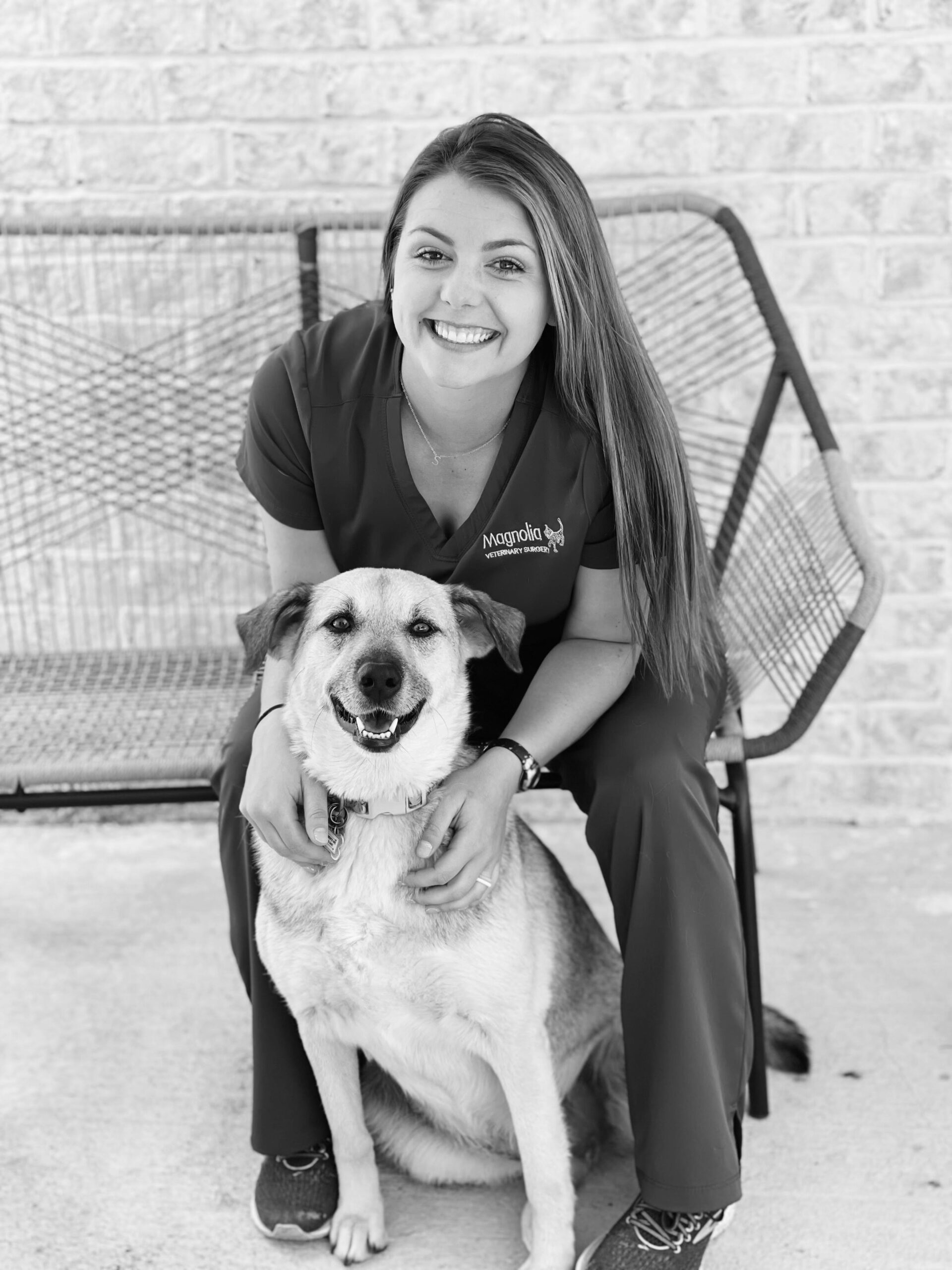 Bailee Stone- Surgery Veterinarian Technician
Bailee is from Stuttgart, Arkansas and now resides in Baldwyn, Mississippi with her husband. She has a bachelors in animal and dairy sciences from Mississippi State University and is a certified Magna Wave PEMF Practitioner. She has always has a heart for helping animals and they have always played such a big role in her life. When she is not at work she spends time with her 3 dogs and 8 horses as well as helps her husband train horses for his business, Big Ridge Performance Horses.
Dulce Flores- Veterinarian Technician
Dulce resides in Hamilton, AL. She graduated from Jefferson State Community College in 2021 with a degree in Veterinary Technology. Once completing her degree, she became a licensed Veterinary Technician. She knew she wanted to work in the field of Veterinary Medicine since she was little. She worked in general practice for 4 and a half years before coming to work at Magnolia. When she is not at work she loves reading, drawing, and spending time with her family. She adores all animals but cats hold a special place in her heart.
Bonnie DeVore- Assistant Veterinarian Technician
Bonnie is from Walnut, MS but now resides in Dorsey, MS. She graduated from Northeast Mississippi Community College in 2023 with an Associate's degree. She has always had a love for animals, which led her to pursue a career working in Veterinary Medicine. When she is not at work, she enjoys reading or spending time with her boyfriend, Jake, and their 4 fur-babies: Huck, Raven, Ali, and Ahna.